Scottish Society Of The Treasure Coast
Download 2023-Mar-APR-Newsletter

MAR/APR 2023

Kaye's Comments
December and January was a very busy time for the Scottish Society; we had Ne'er Day on December 30th and the Burns Supper on January 25th, 2023, both events were well attended. On February 26th we had our Scottish tea at the Garden Club of Indian River.
Thank you Nancy Richards for heading up this event, which was very well attended and we gained five new members. The beautiful quilt that Cathy Sullivan made and donated was raffled off and a new member won.
On March 31st we will sponsor a booth for Downtown Friday in Vero Beach on 14th Street. We will be in space number 56. We are currently looking for pipers and volunteers for this event. Please call our Scottish Society number at 772-783- 6891 if you are able to help.
We are resuming Pub Night at Mulligan's on Wednesday, March 22nd, and a flyer has been sent with all the details.
This year's Kirkin' O' the Tartan will be held at the Westminster Presbyterian Church at 2555 58th Avenue, Vero Beach on Sunday, April 16th, 2023. If you wish to carry a tartan flag please call the Scottish Society's number and we will forward your name and phone number to Mason Russell, who is chairing this event.
On April 28th we will again be sponsoring a booth for Downtown Friday in Vero Beach and will be looking for pipers and volunteers for this event as well.
Nancy Richards & Mason Russell have updated our Website and are maintaining it and have just recently entered pictures of our events and members. You can reach the Website by going to: www.scottishsocietyofthetreasurecoast.com. I hope you enjoy the Website.
We will be forming an Ancestry & Genealogy Committee, co-chaired by Roy Thompson and Mason Russell ... more info to follow.
Sincerely,
Kaye Hicks, President
Page 1
SPRING SCHEDULED EVENTS
We hope you will join us whenever possible
Wednesday, March 22 Pub Night at Mulligan's
5:30 pm. Call 772-783-6891 for reservations
Friday, March 31 Downtown Friday in Vero Beach
6:00 pm. Space #56 near Italian Kitchen
Friday, April 7 Board Meeting
10:00 am Sean Ryan's ... members are welcome
Sunday, April 16 Kirkin' O' the Tartan
Westminster Presbyterian Church, Vero Beach - flyer will be forthcoming
Friday, April 28 Downtown Friday in Vero Beach
6:00 pm. on 14th Street
Friday, May 5 Board meeting
10:00 am Sean Ryan's ... members are welcome
MEMBERSHIP REPORT
Our number one goal for the foreseeable future is to increase membership. (Please see survey on page 3)
In the last four months, we have had three successful events where we have had unprecedented attendance compared to the last several years.
The St. Andrew's event was filled, and eight requests were denied due to space limitations. We gained three new members at this event. Our annual Burns Supper was filled to capacity and unfortunately we had to again tum away people who wished to attend. We also gained several new members and had a new member help with the presentation.
Our afternoon tea was also filled to capacity and we have five new members with at least ten applications taken by guests who were very positive about the Scottish Society and thoroughly enjoyed themselves.
Our first Downtown Friday booth was on January 27th, 2023, and we had Rich the piper from VPPD playing for us. Our booth was in front of Sean Ryan's Pub and very near to a DJ; this was a less than ideal location and the next Downtown Friday on March 31st we will be in space #56, across from the Heritage Center.
We had eight members who did not renew their membership. We currently have 67 individual members including five new members from the Afternoon Tea. We hope to grow our membership to I 00 by September.
Events are the best way to grow our membership and retain our members, and advertising is essential for the success of our events. We all need to look for new venues, as the interest in our Society's events has grown and we have outgrown our current locations. We cannot afford to tum away members and potential members.
Let's all try to invent some new events and have fun doing so. One idea is a Ceilidh. This is a traditional Scottish event which includes Scottish dancing, music, food, and adult beverages. What l propose is that we find a location that offers food and drink, and invite the Highland Dancers we had at the Burn's supper to come perform for us.
After the tea I spoke with Jim, the gentleman who played the guitar, and he gave us his card and informed me that they belong to a trio who specialize in Celtic music and could play for our events. These musicians would be a great addition to the Ceilidh.
We are on a good path and the Society is getting healthier. Thank you all for helping out and sponsoring our events. I see a bright future for the Scottish Society with all your help.
Steve Hicks, Director of Membership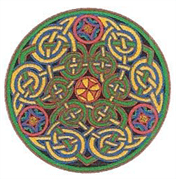 Page 2
SCOTTISH SOCIETY OF THE TREASURE COAST
SURVEY 2023
TO: ALL MEMBERS
We need your ideas and your suggestions for expanding the Scottish Society of the Treasure Coast. Our membership has decreased over the years due to the ageing of our current members; the deaths of some, people moving away, etc. Now we are anxious to increase our numbers again. We would love to have some younger members who will add life, new ideas, technical knowledge, and enthusiasm, and would be interested in their Scottish ancestry and be anxious to prolong contact with everything Scottish. And of course, we want to retain our current members who we enjoy seeing at all our events - your input would be most valuable to us. We ask that you bring possible members to any and all of the social events so they can see what fun we have.
Right now, we are surveying our membership and would like for each one of you to write a brief, even one sentence line about what the Scottish Society means to you. This could include why you joined, what you get out of it (and what you want out of it), which activities you would support and attend, and fundraiser ideas. It would also be helpful if you could share with us the other groups you are/have been a part of and what they have done to successfully shore up finances and membership roles. Please make your choices below:
Thank you for your input. Please complete the survey.
Or you can return to:

Scottish Society of the Treasure Coast
P.O. Box 5263
Vera Beach! FL 32961
3
SOCIETY PHOTO ALBUM OF RECENT EVENTS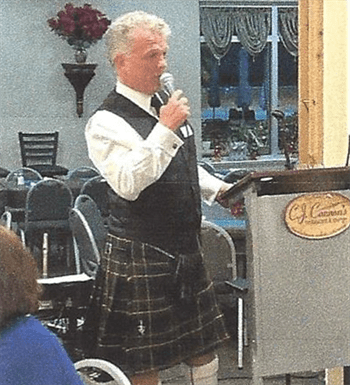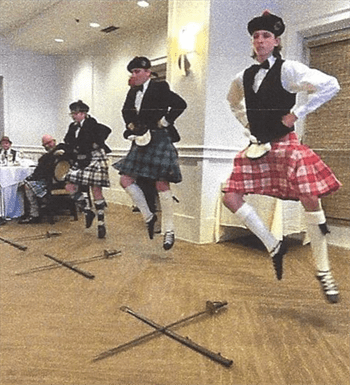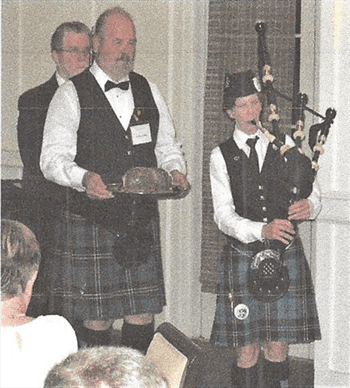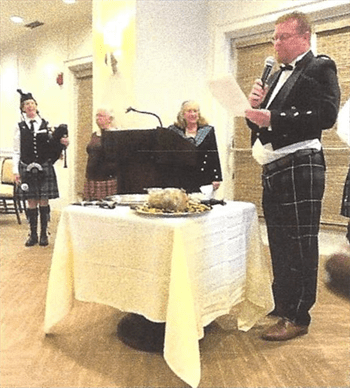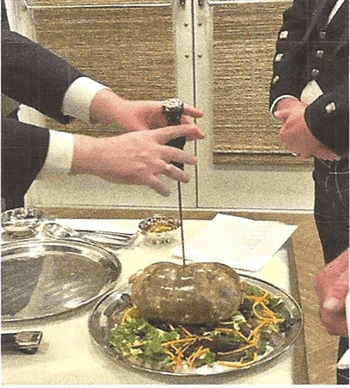 4
SOCIETY PHOTO ALBUM OF RECENT EVENTS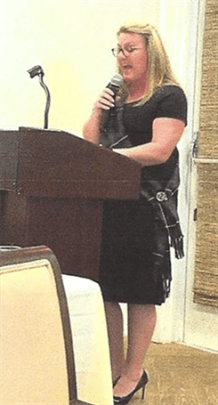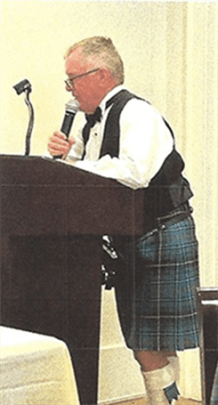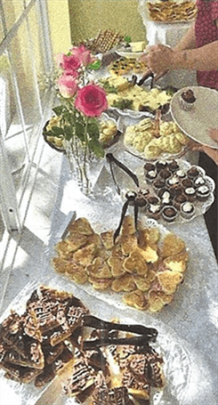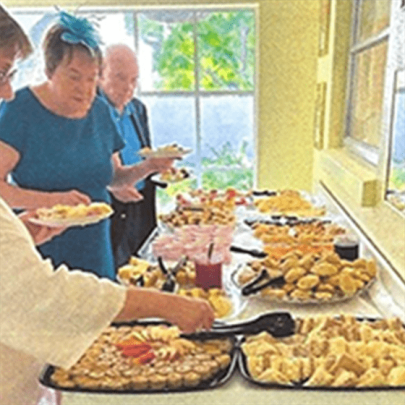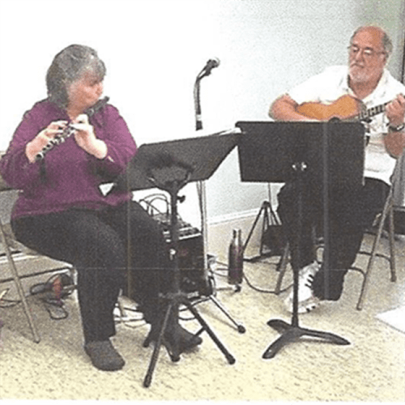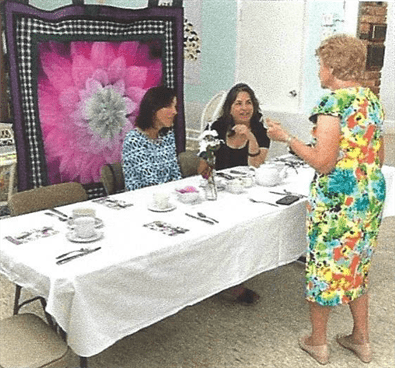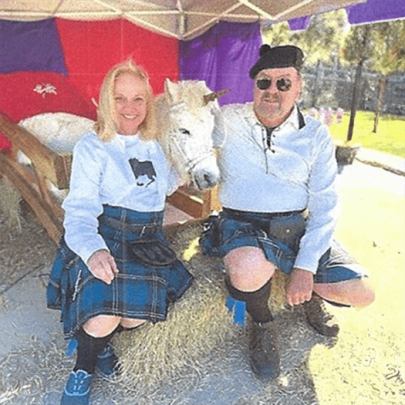 5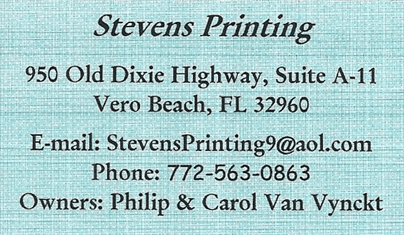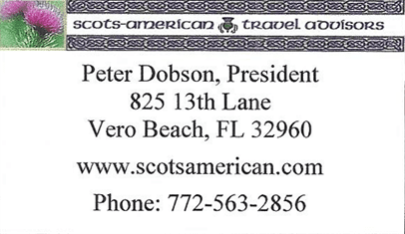 THE MONTHLY TARTAN QUIZ
Just in time for Spring. This fashion tartan is called Suncoast Springtime woven by Amanda Payne. She was inspired by native Florida wildlife which are active during springtime. There are six colors which are intended to represent: the pine hyacinth, Clematis baldwinii; the poppy-like flowers of the prickly pear cactus, Opuntia humifusa, the most common native Florida cactus; and the colors found on the intelligent Florida Scrub Jay, the only bird unique to the state.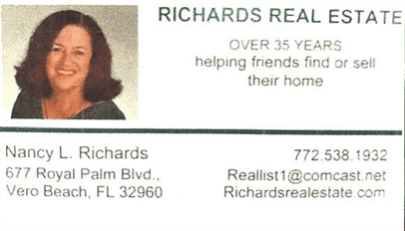 2022-2023 SOCIETY OFFICERS AND BOARD OF DIRECTORS
Officers
President - Kaye Hicks
Vice President - Mason Russell
Secretary - Sarah Morley
Treasurer - Sylvia Gregory
Communications Director - Nancy Richards
Events Coordinator - Open Position
Membership Director - Steve Hicks
Director at Large - Helena Krasa
Society Phone Number: 772-783-6891
E-mail: tcscotsmembership@gmail.com
LIKE US ON FACEBOOK -The Scottish Society of the Treasure Coast Society
Mailing Address: P.O. Box 5263,
Vero Beach, FL. 32961
6